The Best
All-In-One
Telemetry Solution
Medical IoT
Remote Patient Monitor
Central Monitor
Real-Time Location System
The Best All-In-One Telemetry Solution
HR2000 is a wearable telemetry solution with various expansion and flexibility. It combines medical IoT, remote patient monitoring, central monitoring, all-time data recording, event list, statistics reporting and enabled third-party devices. It provides the best all-in-one solution for a smart hospital.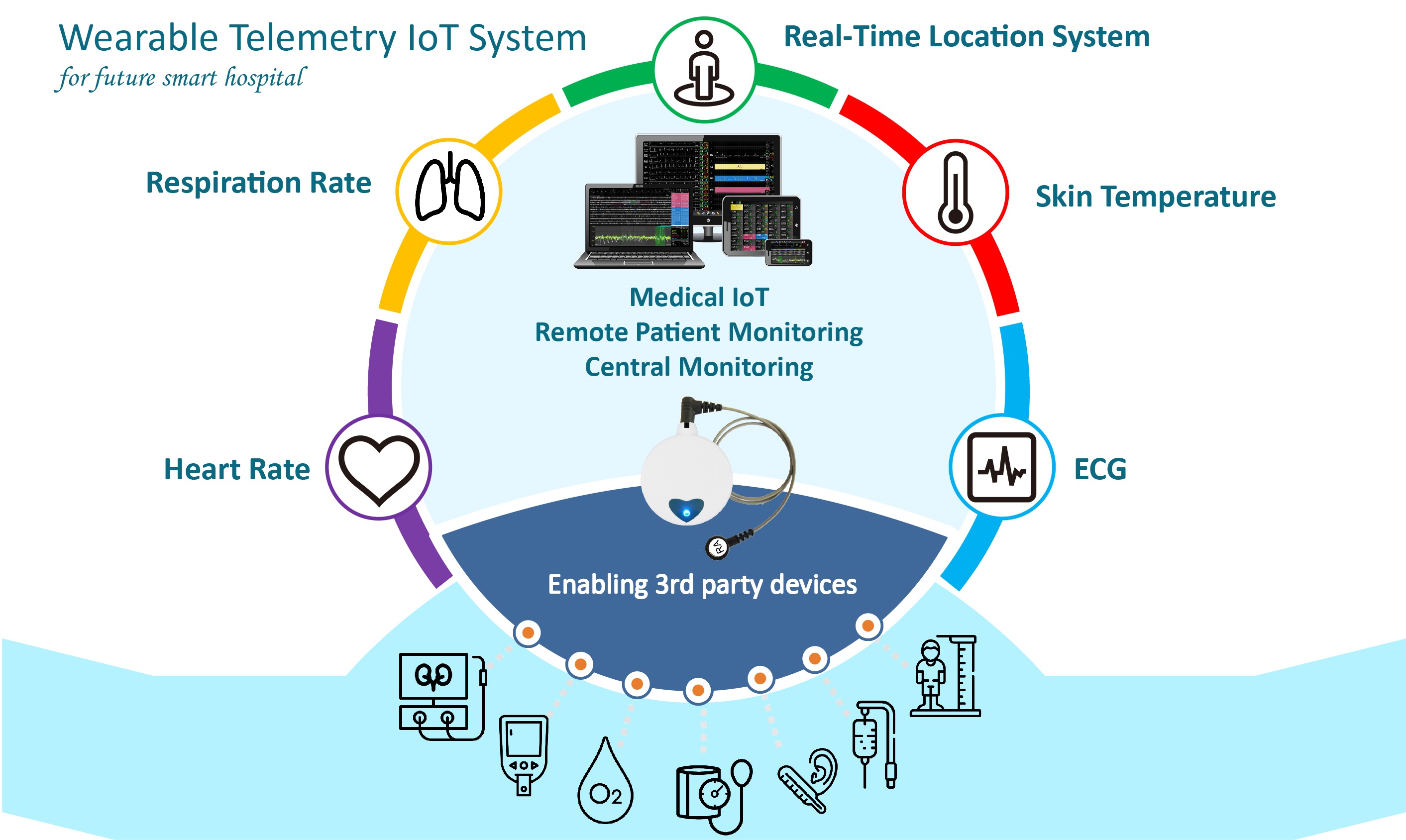 Medical Internet of Things (MIoT)
HR2000 is an interacting system that embraces the characters including patient, staff, equipment, using active/passive RFID/with 1D and 2D barcode.
HR2000 system can integrate all workflows in the patient care process. From patients' vital sign, various monitoring or examination data to an EMR system, it is even possible to manage properties and employees through the special RFID tags using RTLS.
By connecting all this information, the HR2000 system can form a Medical IoT to improve patient safety, reduce working redundancy and implement machine learning for a better work flow.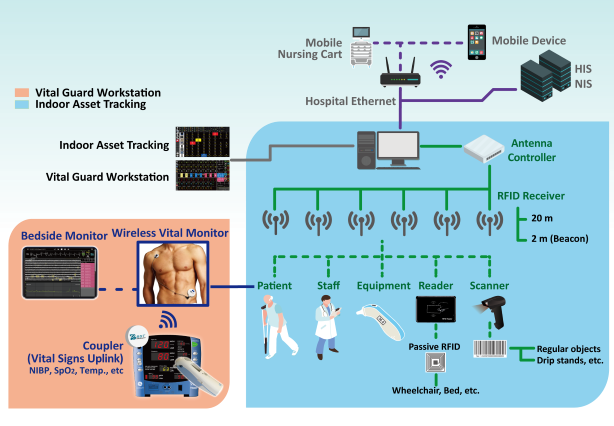 Remote Patient Monitoring (RPM)
HR2000 provides the remote patient monitoring (RPM) that allows care providers to monitor their patients at home. It breaks the limitation of walls, which speeds up patient's early discharge and rehabilitation.
Furthermore, all collected ECG and vital signs are real-time and centralized. It specially appropriates for the need in the pandemic era.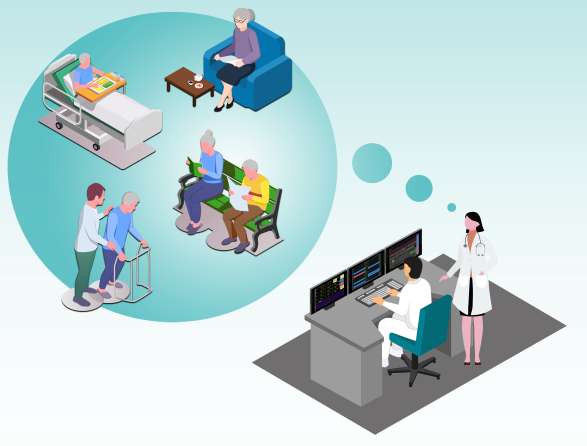 Central Monitoring System (CMS)
HR2000 is widely applied to inpatients around various departments. It collects patients' continuous vital signs and are displayed in the central monitor
The significant benefit is to lower the unexpected cases by adopting a comfortable device in inpatients.
According to our clinical users' outcome, they found that using HR2000 increased patient's return of spontaneous circulation (67.1% vs. 40.5%, p=0.005) when compared with the non-monitoring group [1].
Telemetry has been proven to be beneficial for more than 70% of the hospitality patients since 2004[2].
Along with the idea of combining up-to-date rapid response team concept, Central Monitoring System generally became mainstream. In 2016, Cleveland Clinic was taken as a role model for this caring strategy [3].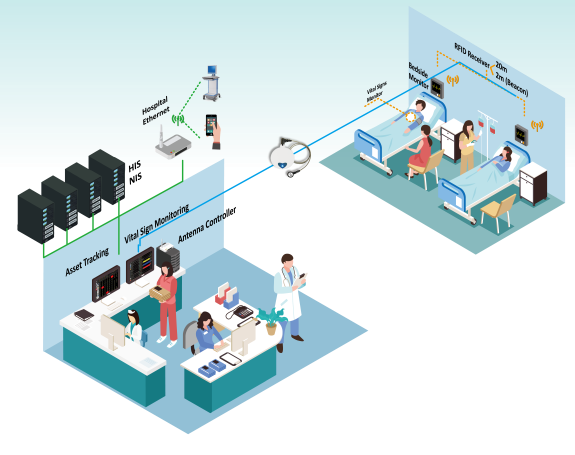 Real-Time Location System (RTLS)
HR2000 is a real-time locating system. It locates patient, staff and third-party devices. It helps staff locate patients and devices so as to save more time.
In addition, by checking the interaction between care provider, patient and devices through time and space, the administrator can consistently optimize the care plan and management strategies.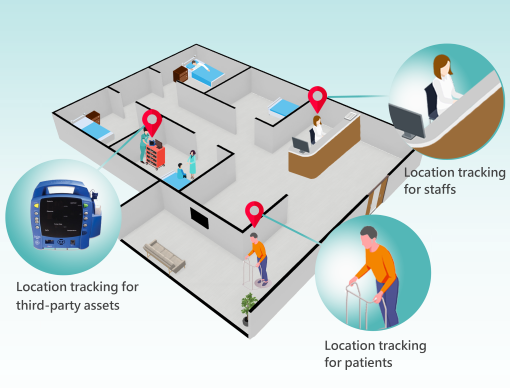 Reference : [1] WEN, Ming-Shien, et al. Resuscitation outcomes of a wireless ECG telemonitoring system for cardiovascular ward patients experiencing in-hospital cardiac arrest. Journal of the Formosan Medical Association 2021; 120(1): 551-558. [2] DREW, Barbara J., et al. Practice standards for electrocardiographic monitoring in hospital settings: an American Heart Association scientific statement from the Councils on Cardiovascular Nursing, Clinical Cardiology, and Cardiovascular Disease in the Young: endorsed by the International Society of Computerized Electrocardiology and the American Association of Critical-Care Nurses. Circulation, 2004, 110.17: 2721-2746. [3] CANTILLON, Daniel J., et al. Association between off-site central monitoring using standardized cardiac telemetry and clinical outcomes among non–critically ill patients. Jama, 2016, 316.5: 519-524.
---
---
About Us
BioSenseTek is a leading-edged research and design company which focuses on development of bioelectrical / physiological sensor and signal processing instruments.
Read More...
Certifications
in processing
---
Certificate of CE
---
Certificate of TFDA
Our Contacts
10 Darnay Rd.,
Morristown, NJ 07960, USA
No. 145, Xinhu 1st Rd.,
Neihu Dist., Taipei City 11494, Taiwan
12018508283 (US)
(+886) 2-8791-2600 (TW)